Statement:
My work investigates Western ideologies by morphing historical and fictional doctrines into pictorial expressions influenced by the contradictions embedded in the collective memory of my European upbringing.
By drawing technical and conceptual inspiration from classical painters, while at the same time, address a broader range of sociopolitical issues and personal anxieties, I am attempting to disrupt the hard-lined grasp on the status quo.
My recent works are experimentations with figurative paintings, drawings and collages that include text that informs, is a satire of, or disrupts possible narratives within.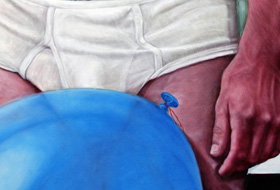 BIENNALE
INTERNATIONALE
DELL'ARTE
CONTEMPORANEA
Wolfgang Bauer at the
FLORENCE BIENNALE
Representing the USA and sponsored by BAUTRÄGER BAUPLANUNG GmbH. Max & Inge Kerscher Munich Germany, Wolfgang Bauer is proud to have been invited by Arte Studio to participate at the FLORENCE BIENNALE.
Click here to read the online version of
Wolfgang Bauer's book
"In Situ Carnalis - An Austrian Adolescence."